e Use Environmentally Friendly Printing and Binding Methods and Are Socially Committed
The sedruck KG company policy is strongly focused on environmentally friendly production methods and social commitment.
Our Commitment for the Environment
We Use Green & Solar Energy
Since 2004 all our stores exclusively use green energy provided by Lichtblick.
At our new administration and production site for our online printing and binding service sedruck.de in the Ludwig-Hupfeld-Straße in Leipzig we have set up large scale solar panels on our own initiave, which we use since April 2015 to meet our demands.
Certified, European Paper
Nearly all our papers are FSC certified. The FSC label certifies the complete production chain, from sustainable forestry to transport. This way we significantly contribute to the protection of our environment.
We also offer a 80gsm eco-paper, a 100% recycled paper with a brightness of 70. This slightly grey Steinbeis ClassicWhite printing paper is made from 100% waste paper. It is certified by Der Blaue Engel (TÜV Süd) and the Nordic Einvironmental Label. Our 80gsm eco-paper is suitable for laser and inkjet printing and ageing resistant – just like all our other papers.
CO2-Neutral Shipping
Our customers also have the to choose shipping with DHL. Together with DHL we have signed a contract, guaranteeing CO2-neutral shipping under the label "GoGreen".
Visit sedruck-Go-Green-Certificate
Environmentally Friendly Packaging
Before we ship our top quality printouts and books, they need to be protected. To reduce the environmental impact we use organic and recycled as well as recycable materials. We also use lots of air in our air cushions, because air protects and is light as a feather –that is good for the environment and the package deliverer.
Environmentally Friendly Mobility
Mobility comes at a cost. To reduce the impact on our environment we use environmentally friendly vehicles. 50% of our fleet are run by very efficient natural gas engines & 20% electro cars. The other vehicles are also equipped with environmentally friendly devices.
Our shops try to mainly use our own bike courier with self engeneered cargo traylers you can find ont Greezzly.com.


Social Commitment at sedruck.de
We are socially committed, so that other people can also profit from our success.
Surgery for Children to Remove Cataract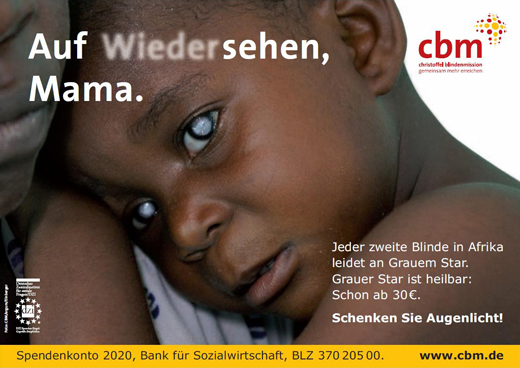 Since 2010, the online service sedruck.de donates one child surgery to remove cataract per month. "Auf Wiedersehen, Mama" was a heartbreaking campaign launched by the Christoffel Blindenmission (CBM) in 2009, drawing attention to surgery for children to remove cataract. In 2010, the 10 million mark for cataract removal operations supported through CBM projects was passed. 10 million people have regained their sight. We are helping.
World Vision
With the help of the organisation World Vision, sedruck.de supports a child in Mauritania and our administration in Leipzig supports a child in India. World Vision funds and supports projects in which the children's families are integrated. They also take care of the children's education and health care and achieve long-term improvements for the living conditions of the family.
Bicycles for Africa
With the help of an advertising camapign we donated 20 bicycles in 2011. In Africa a bike costs approx. 120€. A daily wage is often less than 1€. The bicycles we donated were a small contribution to making lives of people in Africa easier. For further information please visit: www.fahrraeder-fuer-afrika.de
Our sedruck Shops Are Also Committed!
Our shops in Leipzig and Darmstadt lead by example.
Darmstadt - UN Refugee Agency
The sedruck shop in Darmstadt supports the UN Refugee Agency and therefore those people, who have had to leave their homes. Money donated to the Agency funds school education and food for refugee children and their families. Also adults are supported in education and finding a job. Furthermore, the UN Refugee Agency helps them to return to their country of origin or to be integrated in their host country.
Leipzig - Social and Environmental Engagement
The sedruck shops in Leipzig donate to "Socials for The Gambia e.V." in Leipzig. The association's aim is to support guidance and education of children and adolescents in Gambia.
Our Leipzig shop in the Beethovenstraße also supports the WWF and the Initiative Aktives Gestalten e.V. with the aim to save the children's cinema KINO FINO.
Our Leipzig shop in the Brüderstraße supports Doctors Without Borders.
Our Leipzig shop am Adler supports the Leipzig handball team and the sports club SC DHFK.