Do You Need to Print and Bind Your Bachelor Thesis?
A bachelor thesis is the first big milestone in an academic career. It is important to submit a convincing thesis, meaning that the bachelor thesis must also impress in appearance. At our online service sedruck.de we have printed and bound theses for many years. We can offer you a variety of great binding options for your bachelor thesis.
Two Great Binding Options for a Bachelor Thesis: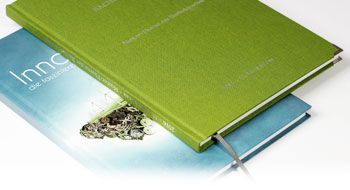 Printed cover or foil stamping possible
Bachelor's thesis / master's thesis
calculate starting at 13,74 €
Bachelor Thesis as Hardcover Binding
An all-time classic for binding bachelor theses is the perfect binding hardcover. A solid cover made of book leather or linen gives the necessary stability to produce a durable book. Foil-stamped lettering can give a personal and elegant touch to your bachelor thesis.
At sedruck.de you have a large choice of different coloured hard covers in leather or linen. Alternatively you can also opt for a printed cover, where a motif of your choice is printed on the cover. Some students decide to print their cover page onto the front cover, this way the reader will know the subject of the thesis at a glance.
Sample price for 4 bachelor theses as hardcover book with lettering "Bachelor Thesis", 100 pages (simplex print), thereof 10 in colour = 92.60€ including VAT & shipping costs.
Calculate a price for your hardcover bachelor thesis now – quick, easy and non-binding.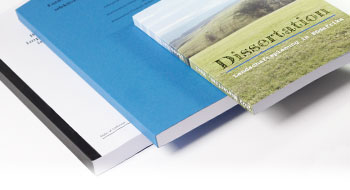 Softcover Paperback
image brochures / college newspapers
bachelor theses / dissertations
online cover designer available
calculate starting at 5,76 €
Bachelor Thesis as a Durable & Elegant Paperback
You would like to print and bind your bachelor thesis at a low price and still convince your professor? Our softcover perfect binding is the lower-priced alternative to a hardcover binding. With an indivdually designed cover it will also meet very high design standards. You can also simply print your document's cover page onto the front cover. Alternatively you could simply add a protective foil over the cover page as front cover. In this case the book spine will be covered by a fabric tape. We will make sure that your bachelor thesis will be printed and bound according to your requirements.
Sample price for 4 bachelor theses as softcover perfect binding with printed cover, 100 pages (simplex print), thereof 10 in colour = 62.80€ including VAT & shipping costs.
Calculate a non-binding offer for your paperback bachelor thesis now.
Meeting your University's Standards for Bachelor Theses
Please inquire what binding or other options are required:
✓ Does the paper need to have a certain substance, for example 100gsm? (We recommend using a 100gsm paper for bachelor theses)
✓ Does the bachelor thesis need to be printed in simplex (standard) or duplex?
✓ Does a page with your signature (e.g. for a statutory declaration) need to be added? That is not a problem, simply send us the original page by post and we will insert it into the binding of your main document. Alternatively you can scan the original page and upload it as a PDF file.
✓ How wide does the margin for corrections need to be? (usually a margin of 2.5cm, often pre-set in Word, is sufficient.) For perfect binding a standard margin on the left side is sufficient.
We Are Happy to Assist You in Printing Your Bachelor Thesis!
Video guide on how to order (in German)
Should you have any questions on how to order, please visit our help & guide page.
You can also tell us your own personal ideas for printing and binding your thesis. All you need to do is to leave a comment with your ideas. Alternatively use our contact form. You may also call us for free (within Germany) at 0800 963 13 69*. This will give us the possibilty to assist you personally, so that your bachelor thesis can be perfectly printed and bound.